I'm finally getting around to writing about Most Likely. It was an incredible experience that I haven't really been able to put into words, but here is an honest attempt. I'll start with a quote. "It was the most fun shoot I've been on," said Gaffer Jack Garrett. Living and shooting with the whole cast and crew under one roof was a risky move that somehow worked out.
For me it was a little stressful, but I'm glad that didn't translate over to the crew. Shooting a 120 page script in 6 shooting days was the biggest challenge of my career and not something I would recommend to any sane person. Despite the obvious challenges, I was blessed to work with an amazing director, Andrew Bemis. He did an exceptional job with casting the most beautiful, fun, and charismatic ensemble you could imagine for this quirky out-of-the-box romantic comedy stoner flick. I was backed up by my tiny and tight-knit crew including aforementioned Gaffer Jack Garrett, 1st AC Denis Kirkman-Moriarty, DIT Rick Ernst, Sound Recordist Yahna Harris, Production Designer Hannah Rodgers, and 1st AD Robert Brookes.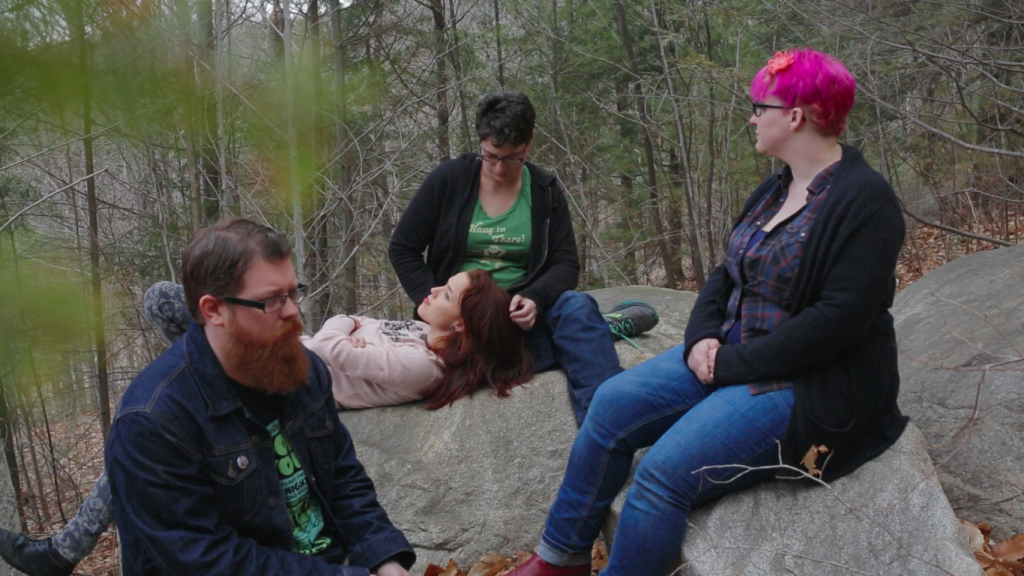 Phil (Kevin Sandberg), Rain (Alisa Kowal), Lex (Jennifer Beaudoin), and Beth (Jess Conger) contemplate nature

As for shooting a micro budget feature I think we did a lot of things right – the right people, the right equipment, and the right location. I shot the film on my trusty 5DmIII and I don't think we could have moved faster with any other camera. Denis pulled focus manually even for handheld shots. I have to give him extra props for jumping on last minute and taking a bus from South Station to North Conway. Jack prerigged lighting in the house- a vacation home in northern New Hampshire.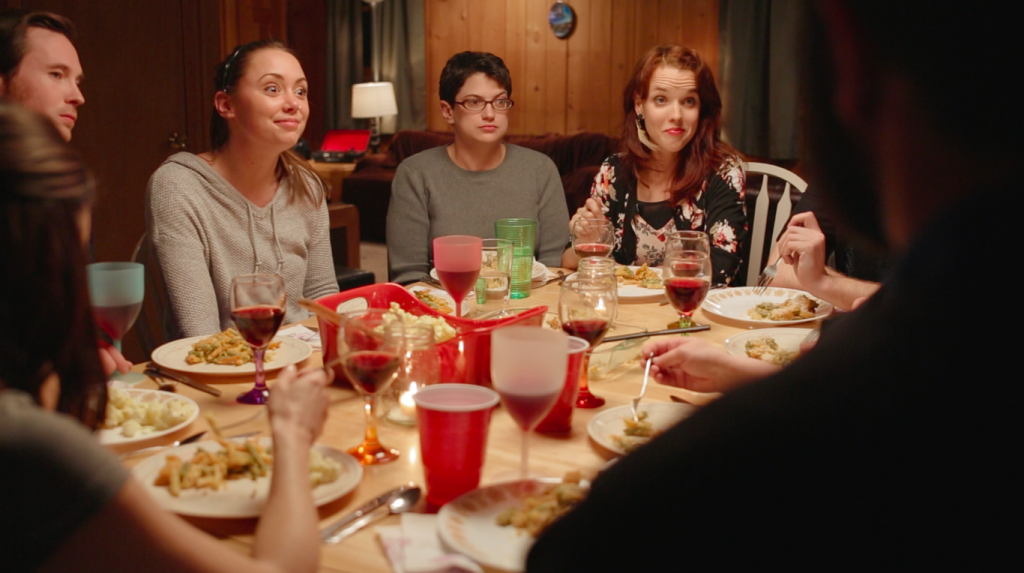 Screen grab of Kurt (Rory Acres), Chloe (Alex Fandel), Lex (Jennifer Beadoudoin) , Rain (Alisa Kowal) at the dinner table.
As per Andrew's request almost all lighting was practical- chinaballs, desk lamps, work lights and bounce lit almost every scene. For the most part lights lived where they were rigged until we wrapped. We shot almost entirely in continuity. That was a first for me, but I think it benefited the cast and it hopefully kept continuity errors at bay. The practicals were on dimmers controlled by an app called ArtNET DMX. I could make subtle adjustments on the fly from my iphone. Being a total lighting snob, I'll fully admit that I cringed when Andrew mentioned David O'Russell using a chinaball on a stick for scenes in American Hustle. In the house we didn't need to do that, but for one scene outside we did resort to a chinaball on a literal stick. It has now been immortalized on shittyrigs. It was actually an ingenious rig that Jack created using a LiteRibbon.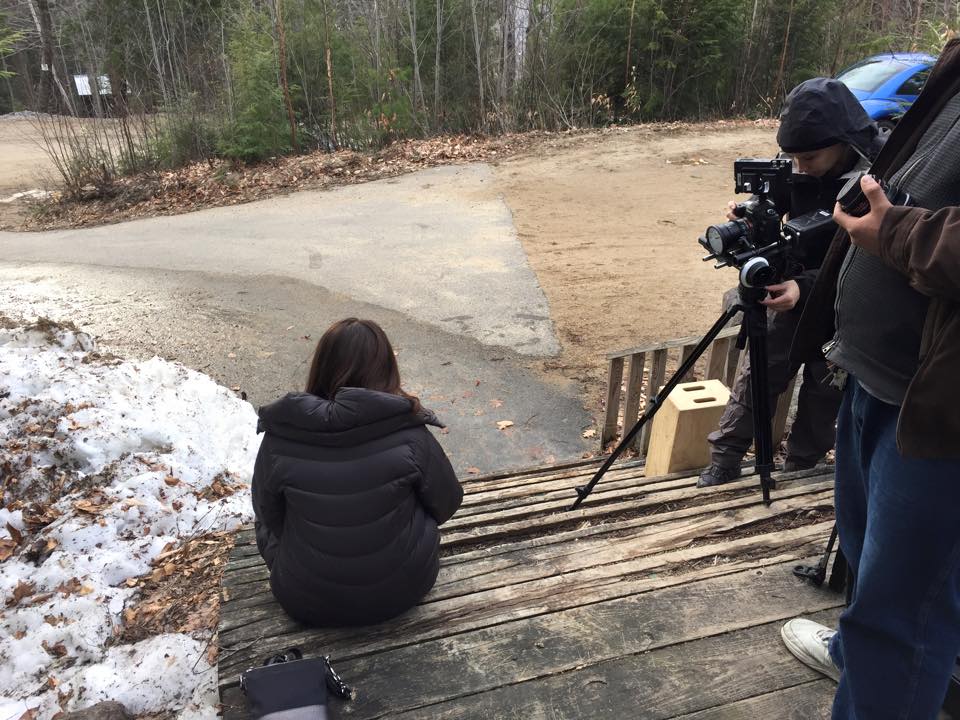 Setting up for a magic hour shot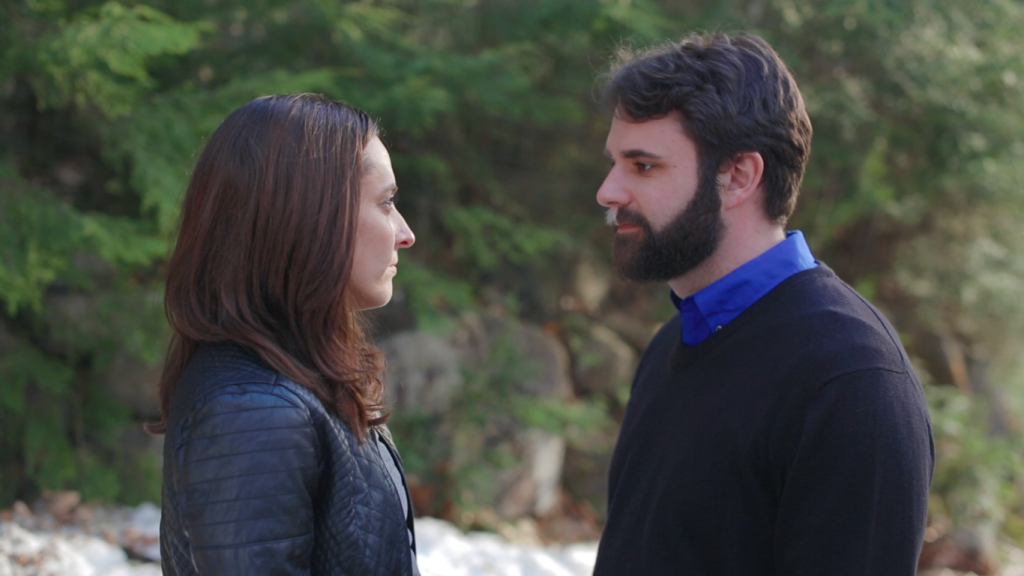 Screen grab of Mia (Destinie Ryan) and Joe (Andrew Bemis)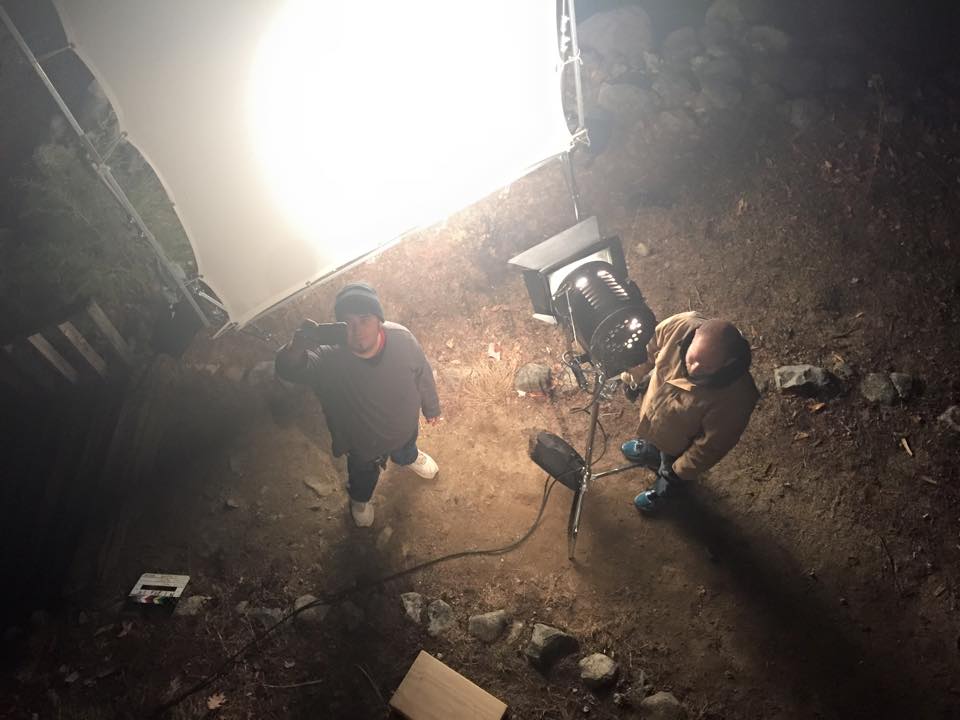 Rick helps Jack with our most complicated night exterior set up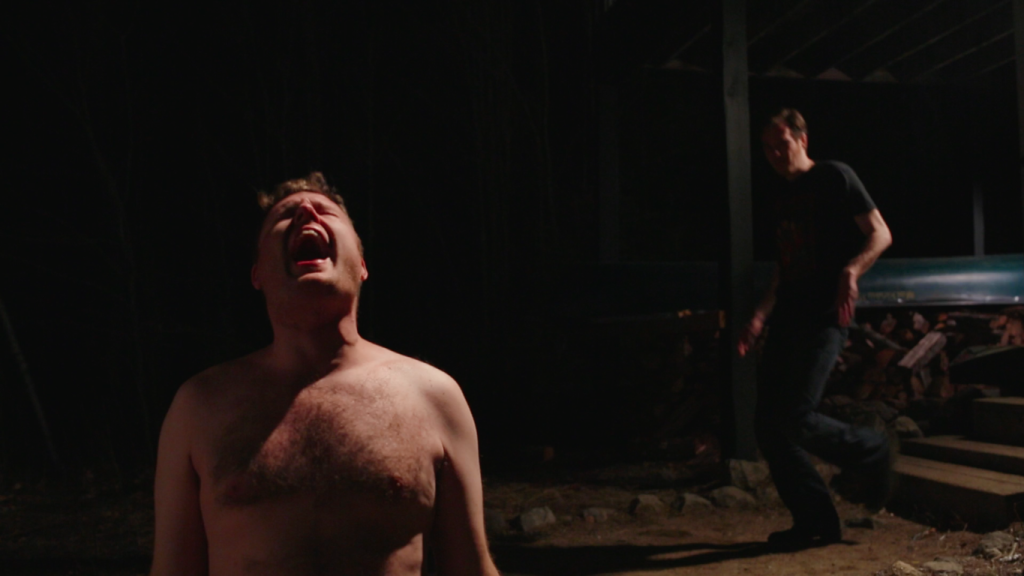 Greg (Johnny Donaldson) has a freak out, Kurt (Rory Acres) tries to help
One of the biggest challenges shooting in Northern New Hampshire in April was the weather. Sun, rain, snow we had it all- in one day. For the most part we had natural diffusion provided by the clouds characteristic of that area. I really liked that the weather was kind of a character in itself. I embraced the natural moody look. It was kind of overcast and brisk but still breathtakingly beautiful. Exteriors were very bare bones. I used a few bounce cards as needed. I think the sun peeked out for one scene so we flew a silk once.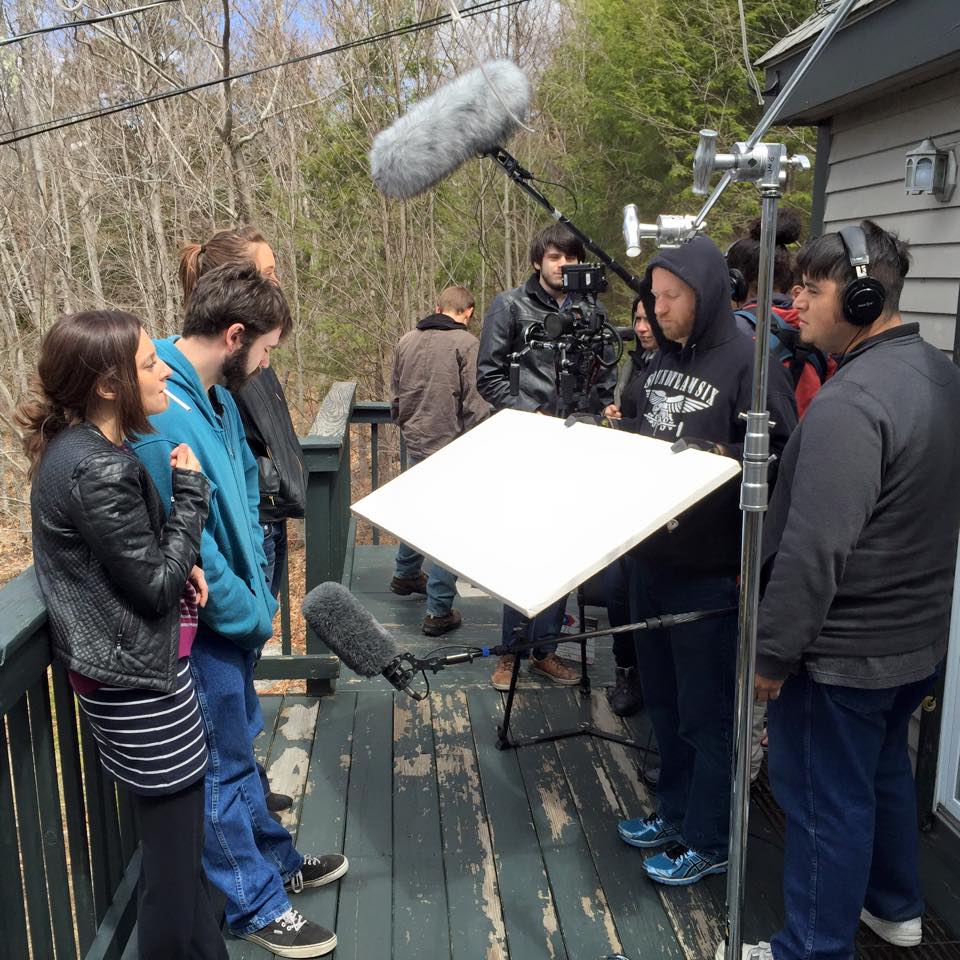 Basic day exterior set up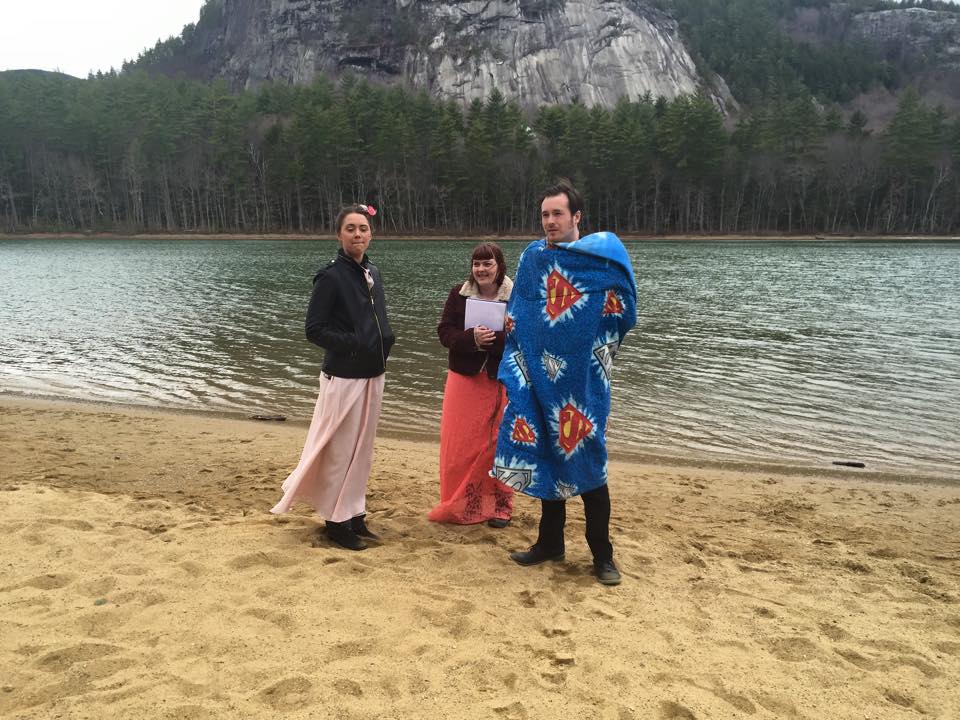 Kurt (Rory Acres), Justice of the Peace (Annabelle Kennedy), and Chloe (Alex Fandel) stay warm in cold conditions.
I relied heavily on the Visiontech picture profile from Visioncolor. I protected the highlights as much as possible and was really happy with the day exterior shots. Seeing the sky is very important to me. I was also really happy with the skin tones. I don't think I've ever seen digital footage right out of a camera with such pleasing skin tones. Each night Rick queued up dailies and I took note of how the profile was holding up. Each night I was impressed. I tried a few quick grades and I slept a little better (minus the snoring of someone in the next room).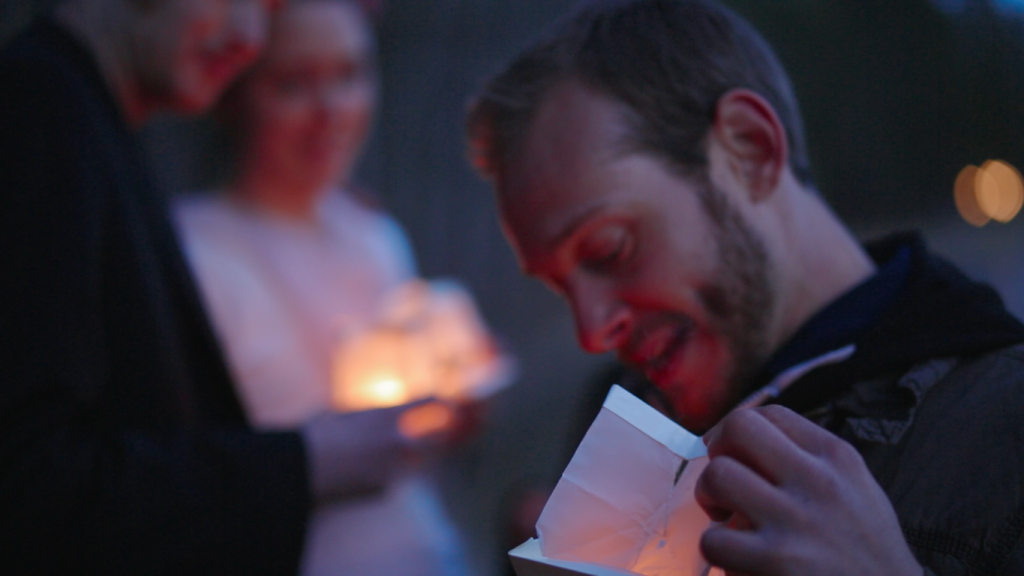 Screen grab Chris (Colin Allen) lights a lantern in a low light scene
Behind the scenes photos courtesy of Robert Brookes